Linking up for the first time with Ashley for...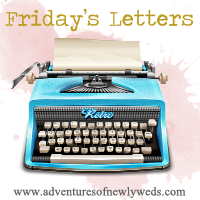 Dear Dad, You're here! We're going to have so much fun this weekend, I can feel it. Today, we're going to UMHB to get my faculty ID (!!) and then to the Waco Water Park with Liz and Ralph. Daddy-Daughter Day!
Dear Ben, 6 days. That's all I'm saying.
Dear Texas, I get that you're usually warm and all, but I'd appreciate if you'd tone down the 100+ degree days. See if you can get on that.
Dear Mama, You should get a plane ticket to come visit ASAP. Then we can have Mama-Daughter Day with Liz and Cathy, and actually enjoy each other without having to worry about tonsils or surgery. Make it happen, please.
Dear Meg (the best cycling instructor in the world), How did I miss your last day of teaching class? I thought it was next week! Totally unhappy about that. Let's get food sometime next week pretty place?
Happy Friday friends! This weekend, I think Dad and I are going to go to the Waco Cable Park and then the Brown's family pool to celebrate (mourn?!) Kristin's moving away from Waco. What are your plans for the weekend?